| | |
| --- | --- |
| Showing 1 to 2 of 2 auctions | |

Banning Sales and Service
An Independent Affiliate
Address: 2200 Delaware St Ste B, Lawrence, KS 66046 / Phone: 785-423-5674
Categories: Vehicles & Marine, All Auctions
1 Items
Closing Wednesday
4d 2h 41m
Up for sale is this great 1999 Chevy Prizm. Car will be sold to the highest bidder!!!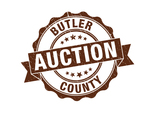 Butler County Auctions
Address: 704 E. Main, Towanda, KS 67144 / Phone: 316-641-7400
Categories: Collectibles, Commercial & Industrial, Heavy Equipment & Farm, Household & Estate, Real Estate, Restaurant Equipment, Retail, Vehicles & Marine, All Auctions
82 Items
Closing Thursday
5d 2h 36m
1975 Suzuki Colt 75cc Original Title, Three-Wheeled Bike, Meat Slicer, TRAILER, AUGERS, WEEDWACKERS, CHAIN SAWS, FOLDING METAL CHAIRS, RESTAURANT ITEMS, SAWS, SAND BLASTERS, TIRE MACHINE, HAND TOOLS VINTAGE TOOLS Chairs & MORE!