2010 G2 Jayco JayFlight Pull Behind Camper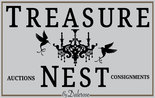 Treasure Nest
Auction Location: 2414 s 34TH STREET, Kansas City, KS 66106 / Phone: 913-957-7016

Vehicles & Marine, All Auctions
BE-A utiful Jayflight Camper with all the Bells and Whistles.
Search Results
| | |
| --- | --- |
| Showing 1 to 1 of 1 items | |
Next Required Bid:
$7,050.00
Scheduled Close
03/15/2019
07:00 pm CDT
Closed
This is a beautiful camper perfect for any couple or family this summer. Don't Miss Out Before the Season Start!
-Queen Size Bed
-Also 2 Convertible Beds (one is in couch form , one is dinning room table)
-Runs off Propane
- Includes 23" Television in Common Area
- 2.5" Hitch
-Comes equipped with all camping needs in storage ares.
-Huge Full Bathroom with Shower
---
Welcome to Treasure Nest Auctions.
-You may make an appointment while the auction is running to preview camper.
-You will need to make those arrangements at least 24 hours before you would like to view the camper so we can contact seller and make those arrangements hassle free for all parties.
-Please do NOT bid unless you are fully committed to purchasing the camper. No holds will be made.
Treasure Nest Contact Information for Preview
913-957-7016
kctreasurenest@gmail.com
Auction Closing:
| | |
| --- | --- |
| Fri, Mar 15, 2019 | 07:00 pm |
Removal:
| | |
| --- | --- |
| Sat, Mar 16, 2019 | 12:00 pm - 06:00 pm |
Bidding Increments:
Range
Increment
$0.01
-
$9.99
$1.00
$10.00
-
$24.99
$2.50
$25.00
-
$99.99
$5.00
$100.00
-
$499.99
$10.00
$500.00
-
$999.99
$25.00
$1,000.00
-
$9,999.99
$50.00
$10,000.00
-
$100,000.00
$100.00
$100,000.01
-
$500,000.00
$250.00
$500,000.01
-
$1,000,000.00
$500.00
$1,000,000.01
-
$2,500,000.00
$1,000.00
Buyer's Premium
Buyer's Premium 15.00%
Non taxable estate sale -
NOTE- Card on file will be charged at 9:00 a.m. day of load out.
If you are going to pay cash, it is your responsibility to contact us before 9:00 a.m. , Call or text 913 957 7016 otherwise your card on file will be charged. If we charge your card, and it does not clear, we will attempt to contact you at your listed number. If we don't hear from you, we have the right to resell / list your items accordingly as to settle out the estate.
Upon closing, the items become the property of the winning bidder (buyer). Items remaining at sale location will be considered abandoned whether paid or not paid if contact is NOT made within 24 HOURS of Estate Sale Closing. Ownership of item will then revert to party with primary vested interest in the item to sell or dispose of item as it sees fit. Any funds paid shall be forfeited to satisfy terms of sale.
IF YOU make prior arrangements Treasure Nest will STORE your items for up to 7 DAYS at our Store Front located at 2414 S 34th ST Kansas City, KS 66106. Operating Hours Monday-Friday 10am-6pm Saturday 12pm-6pm Closed Sundays
If you can NOT make the scheduled load out, PLEASE call and see if we can make arrangements BEFORE you bid. . We will do our best to accommodate those who contact us ahead of time. All invoices must be paid by end of scheduled load out day.
If you are tax exempt, we will need a copy of your paperwork on file on location day of loadout.
---
2414 s 34TH STREET
Kansas City
KS, 66106

913-957-7016

39.0581704000

,

-94.6683675000



Shipping
We use a 3rd party shipping service, a local UPS store. They will come pick up your items, pack, and then ship them to you. All shipping charges will be paid directly to them. Please contact them at the email below if you have any questions.
Process:
If you want a quote before purchasing, click the online quote button below at least 48 hours BEFORE sale ends.
Pay for item immediately following the sale, then email your invoice to ups2923@gmail.com asap so they can pick up your items on time.
If you don't need a quote, you can just email the invoice immediately following the sale, however, you are 100% responsible for all shipping fees assigned.
UPS will come pick up the items for you, professionally package, and ship to you.
There are no refunds for any reason.
All pickups fees are waived when using The UPS Store's shipping services.
All shipping transactions must be completed within 5 business days of pickup or items will be forfeited.
If you want a shipping quote before buying: